Ways on how to make DIY phone cases
6 min read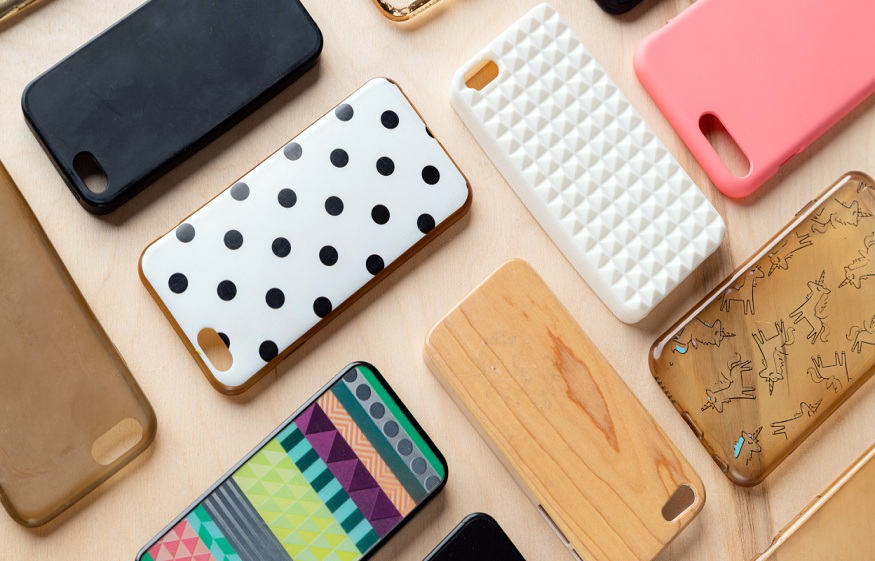 Phones cost a lot of money and should be kept safe, but how? Most of the time, store-bought cases are boring and not very appealing. There is a chance that an aesthetic phone case will cost more than you can afford.
Some brave people may want to use their device without a case, but we love the idea of putting a DIY phone case on your device.
You can find a case here that fits your budget and is easy to copy, no matter how much writing experience you have.
Marbleize a Clear Case
Have you ever marbleized your nails? If so, how did it go? This do-it-yourself project is far simpler, and it won't make nearly as much of a mess.
Put a few drops of nail paint in a bowl of water and stir it around to make this phone case.
 After you are satisfied with the pattern of marbling that has formed on the surface of the water, dip the case.
Choose three colors of nail polish that complement each other for the greatest effects.
Cross stitch a fun pattern
You want the best phone case that will get people's attention whenever they see you using your phone, right? Throw in a short piece of thread.
It's a great idea to use this project as a way to combine the centuries-old art of cross stitching with today's cutting-edge technology.
The great thing is that your imagination is the only thing stopping you from doing anything you want.
Before starting this DIY phone case project, you'll need a blank cross stitch case. Next, either come up with your own pattern or look for patterns on a smaller scale that you can copy.
Add bold patterns with washi tape
Use some geometric details in the design of your phone case for a striking and up-to-date look. Use tape if you want something to be as easy as it can be.
Washi tape is still widely used because it is an easy and very inexpensive way to add interesting accents to craft items.
To achieve this style, visit the craft store in your area and select three items that are distinct from one another in terms of color or design.
 If you're having problems, you can obtain some ideas by looking at different color palettes online.
Cover your phone with a bohemian tapestry
When your phone case is rigid and has rounded edges, texting for long periods of time might be difficult on your hands.
Since the back of this do-it-yourself case is covered in a plush and substantial piece of tapestry, holding the phone will be far more pleasant.
Add Some Glitter
If you are one of the many people who ordered a rose gold iPhone, you may have had the disheartening experience of realizing that the metallic rear of the phone will be covered up by your iphone case. If this was the case, you may have been disappointed.
Many individuals made the decision to either not put a case on their phone or to buy one that was transparent instead.
Because clear covers are devoid of character, this do-it-yourself project is a great way to show off the color of your smartphone while also adding some sparkle to the mix.
Change out your design with craft paper
Clear phone cases are ideal for crafters since they make it easy to swap out your phone case whenever you want to, similar to how you would swap out your pocketbook.
If you enjoy scrapbooking, you should rummage through your supply of paper and select a few different patterns that appeal to you.
In the event that you do not have a stockpile of paper, you may always reuse some old wrapping paper, tissue paper, or even an old greeting card.
Print off designs from your favorite graphic designers
Consider printing a pattern from the internet if you do not have anything in the house that you might use as a case and you do not have access to the internet.
A great number of graphic designers have made available for free download designs and patterns that are the ideal size for use on phone cases.
Create a Case Using Paint Chips
Visit your neighborhood hardware store to pick up some paint swatches, which is yet another option for making a colorful phone case on your own.
Make a template, and then cut the swatch to the appropriate dimensions. After you have a hole carved out for the camera and placed it in a clear phone case, you are finished.
Experiment with pressed flowers
Pressed flowers are used in a wide variety of creative projects; however, have you ever considered using them as the primary image on your mobile device, such as a smartphone?
Some pressed flower covers secure the petals by gluing them to the interior of a transparent phone case. This helps to safeguard the petals.
This idea opts to make use of an opaque white casing instead, which gives the petals a striking contrast. A resin mixture is used to harden the outside of the object.
Make a Tiny Piece of Art Using Watercolors
This straightforward yet visually striking phone cover creation is sure to appeal to creative types of all stripes.
First, grab a sheet of white paper of a moderate weight, and then choose an art medium. Watercolors were used to produce this piece of case art; however, markers might achieve a similarly striking effect.
If you are unsure of your artistic ability, you might want to attempt taking a page from an adult coloring book, cutting it out, coloring it as you like, and then using it as a cover for your phone.
Paint On it
Put some paint on your clear phone case to make it look more aesthetically pleasing. To paint on it, you should use acrylic colors.
By using different colors of acrylic paint, the transparent phone cover can be transformed in a variety of ways. Using a paint color that is red, construct a pattern of small hearts or any other figure that you like all over it.
If you want something simple, all you have to do is choose your favorite color and paint the back cover of the phone with that color, and it will be finished.
You can paint some figures over the plain color to give it a bit more of a sense of mystery and intrigue.  Favorite design is one in which you paint the back of your phone a pale blue color and then draw small clouds all over it.
You might even write something on the canvas using the different colors of paint, such as your name, a phrase that is meaningful to you, the words "Boss Babe" or "Pataka," a favorite quote, or anything else that you choose. If you don't want to ruin the cover of your phone, use a pencil first so you don't get any paint on it before you start painting.
Use Beads
Beads or colorful stones are still another option for giving your transparent phone case a new look and feel. You are free to choose the beads in any color you want, then arrange them in whatever design you choose on the back cover of the phone.
You are not required to arrange it in a specific pattern; rather, you are free to position it wherever you see fit. As long as you don't go overboard with it, it should come off as elegant.
You have the option of either sticking the beads directly onto the phone cover or painting it first or then the beads to the painted surface. This will unquestionably enhance the quality of your phone cover to an entirely new level, and everyone will be curious about where you purchased it.
Add sticker transform clear phone case
Your see-through phone case can be turned into anything else, which is a very interesting choice.
You won't have to put in a lot of work, but when you're done, your phone cover will look pretty good.
Just go to the store and buy the stickers you want. Stick them on the back of the phone case in any way you like.
You can put one big sticker or a bunch of smaller ones. It could be a rainbow, a quote, a pair of sunglasses, a meal, and a character from a cartoon, clouds, a heart, or any number of other things.
You can put on as many stickers as you want, and no matter how many you use, it will still look great. Using this method to change a phone cover is sure to make it a fan favorite.